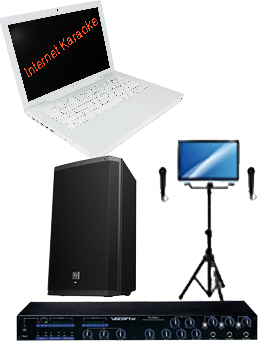 System-KDI
400 Watt Karaoke
Our most popular Karaoke System

Internet based with over 30,000+ songs
1 ea -
400 Watt, 15"
Self-Powered Speaker
1 ea - Laptop Computer with Karaoke Software
1 ea - VocoPro DA-1000 Pro 3 Mic Digital Echo Mixer
2 ea - 20ft Wired Microphones
1 ea - 20in LED Monitor w/Stand & Mic Holders
All Speaker & Mic Cables, Power strip and Extension Cords .
** MUST HAVE WIFI INTERNET **
View our Song List (3.5MB)

Perfect for all types of parties & corporate events!
Additional Information
Video Review
If you're looking for a karaoke system that can do it all, our Internet based system is an excellent choice! This system comes complete with updated 30,000+ song library from Today's Hits, Rock, Latin, Old School, R&B , Teens and popular Spanish hits.

No Song Books or App to install! Your guest us their own smartphones to browse and add their song and name to the queue using a web browser.