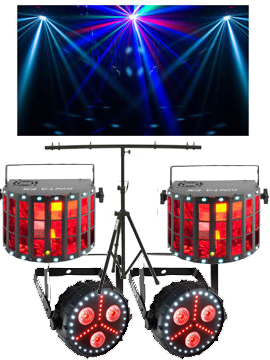 LT-Pack4
DJ Lighting Tree
Our most popular sound activated lighting system.

2 ea - Chauvet Kinta FX that combines an LED derby effect, laser and SMD strobe in one compact fixture .

2 ea - Chauvet FXPar 3 that is a compact effect par with multiple technologies in a single fixture. It includes three 8W Quad-color (RGB+UV) center LEDs, RGB SMD LED lights and SMD strobes

1 ea - 8ft High T-Bar Light Stand

Power Cords and Power Strip Included

$60.00
-&nbsprented with a system
$100.00
-&nbsprented separately
Additional Information
Video Review
Great for any event with plenty of light and effects to keep your guest on the dance floor! Our lighting package is considered an add-on to one of our complete DJ systems, which offers you some savings.
Click below for a video review of our DJ Lighting Package.