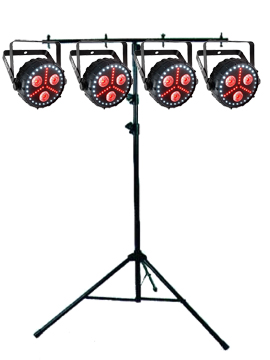 FX-PAR4
RGB+UV FX Wash Kit
SMD STROBE + RGB and UV Wash

4 ea - FX-PAR3 Wash Lights
1 ea - Lighting Stand
1 ea - Powerstrip & Ext. Cord.

Sound Active
Individually adjustable heads containing 12 high-intensity tri-color LEDs.
Creating large, coordinated light shows!
Additional Information
Video Review
Compact effect par with multiple technologies in a single fixture. It includes three 8W Quad-color (RGB+UV) center LEDs, RGB SMD LED lights and SMD strobes. Separate control of these features makes creating breathtaking effects easy.