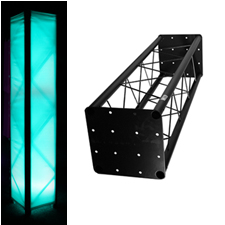 Totem-6
6ft Truss Totem & Base
LED WEDGE LIGHT & SCRIM INCLUDED!

1 ea - 6' Light Duty 12" Truss
1 ea - 24" Metal Base
1 ea - Tri-Wedge RGB LED Light
1 ea - 6' White Truss Scrim Cover

Mount Moving Heads, Lights and TV's!
1.5" light weight truss and easy handeling


Additional Information
Video Review
Feel the power of the Totem with this professional high tech design upright display structure that is simple to set up. Place lights inside or outside the truss framework depending on your needs. Use in conjunction with a scrim to create an eye catching, dramatic lighting display that will leave your crowd in awe! Totems are ideal for clubs, bars, hotels, weddings/formal events. and restaurants.