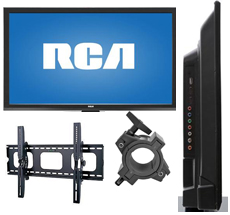 HD-TV32
32in LED TV Screen
720P HD LED TV

1 ea - 32in Flat Screen TV
1 ea - HDMI, VGA or RCA Cable

Great add-on for Karaoke or Video play back!
Additional Information
Video Review
This TV supports 1366 x 768 resolution and features true 16:9 aspect ratio. The 60Hz 720p LED TV also has wide 176-degree vertical and 176-degree horizontal angles, so you can see a clear picture from anywhere in the room.