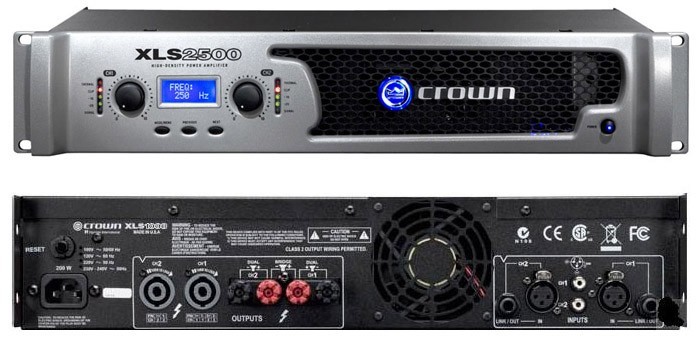 XLS-1500
Crown Amplifier
Up to 1050 Watts of Power*

1 ea - Crown XLS Amp
1 ea - Power Cable

Lightweight Class D amp weighs less than 11 lbs.
Integrated PureBand™ Crossover System for better performance and control
Peakx™ Limiters provide maximum output while protecting your speakers
XLR, 1/4", RCA inputs provide outstanding flexibility
Efficient forced-air fans prevent excessive thermal buildup
Electronically balanced XLR inputs; touchproof binding post and Speakon® outputs
Precision detented level controls, power switch, power LED, and six LEDs which indicate signal, clip and fault for each channel.
Additional Information
Video Review
The XLS Series amplifiers define the standard for portable PA systems with unmatched performance, technology and affordability. Its advantageous flexibility includes multiple inputs so you can plug in anything and play anywhere, along with several system setup configurations. The integrated crossovers and switch-mode power supply produce superior sound, and Peakx™ limiters protect your speakers. Weighing less than 12 pounds.