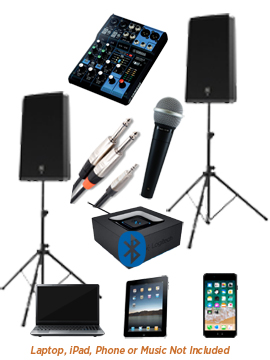 System-M
Bluetooth DJ System
Our Most Popular DJ System

2 ea -
800 Watt, 15"
Self-Powered Speakers
2 ea - Speaker Stands
1 ea - Yamaha MG 6 Channel Mixer with 2 mic inputs
1 ea - 20ft Wired Microphone
1 ea - 6ft Aux Cable for any headphone jack
1 ea - Bluetooth Streaming Adaptor
** NOW SUPPORTING BLUETOOTH **
All Speaker & Mic Cables, Power strip and Extension Cords .
** iPod,Tablet, Cell Phone, Laptop or Music not included **
Perfect for weddings, birthdays, parties and public speaking
Additional Information
Video Review
Perfect teen & adult parties, wedding, presentations, public speaking, corporate events and more! Add our Lighting package to save even more! Click below for a video review of this system.